On November 17, 2020, the 11th "China International Medical Device regulatory Forum" (CIMDR) was successfully launched at the Fuzhou Strait International Convention and Exhibition Center in Fuzhou City, Fujian Province.
The theme of this forum is "Perfection, Innovation, Contributing Chinese Wisdom to Global surveillance". Representatives from domestic and foreign medical device regulatory agencies, medical device technical review agencies, international organizations related to the coordination of medical device regulations, domestic and foreign standardization agencies, medical device testing agencies, medical device application technology experts, and medical device companies gathered here to give speeches Exchange and discuss measures and experiences in the field of medical devices to deal with the challenges of the epidemic in the global anti-epidemic environment.

Jiao Hong, director of the NMPA, delivered a speech for the forum. Director Jiao pointed out that this year is the final year of the 13th Five-Year Plan, and next year will be the beginning of the 14th Five-Year Plan. Device supervision will continue to deepen the reform of the review and approval system, continue to strengthen the life cycle supervision, and accelerate the improvement of supervision capabilities and Strengthen the construction of supervisory teams, deepen the research of supervisory science, and constantly develop new standards, new tools, and new methods to solve difficult problems at the forefront of surveillance.
Medical Imaging Devices Forum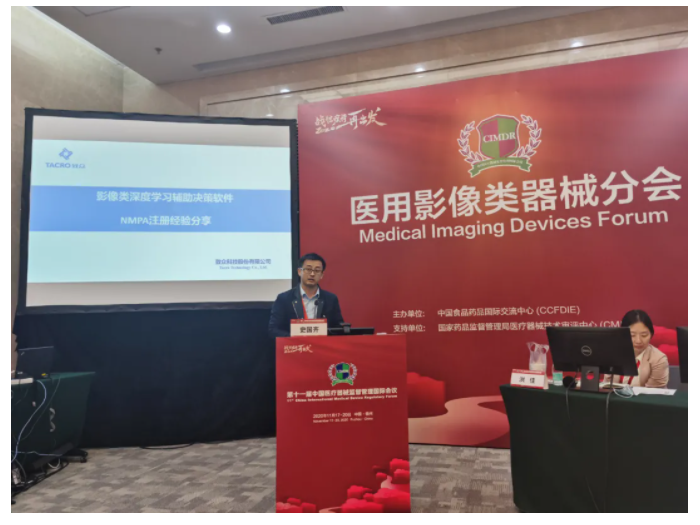 Guoq Shi, vice president of Tacro Technology, brought the theme course "Sharing the Registration Experience of Imaging Artificial Intelligence Medical Devices" in the medical imaging device branch.